Everyone's healing looks a little bit different. This track provides a clear pathway for trauma processing and can be adjusted to each person with their unique needs. These groups are intended to build on one another so that you can feel safe and ready to enter the more difficult parts of your story.
We start with assessing your symptoms and needs so that we can create a map together that makes sense for you. Then we begin with resourcing and reconnecting to your mind and body. This will lead to our 10 week trauma intensive, ReStory, which focuses on core wounds and integrating the parts of you that have been surviving.
Step 1: Assess
This consult and intake process will reflect where you are in your healing and we will take the time to create your trauma track map together. This is done by using the contact form below (or on any of our group pages) so that you can get connected to Brittany or Noel and get started.
Step 2: Resource
As you follow the map you've created for your trauma track you will begin attending one or more of our resource groups that will help you gather the tools needed to do your trauma processing in ReStory. Throughout this part of the track you will stay connected to your ongoing therapist.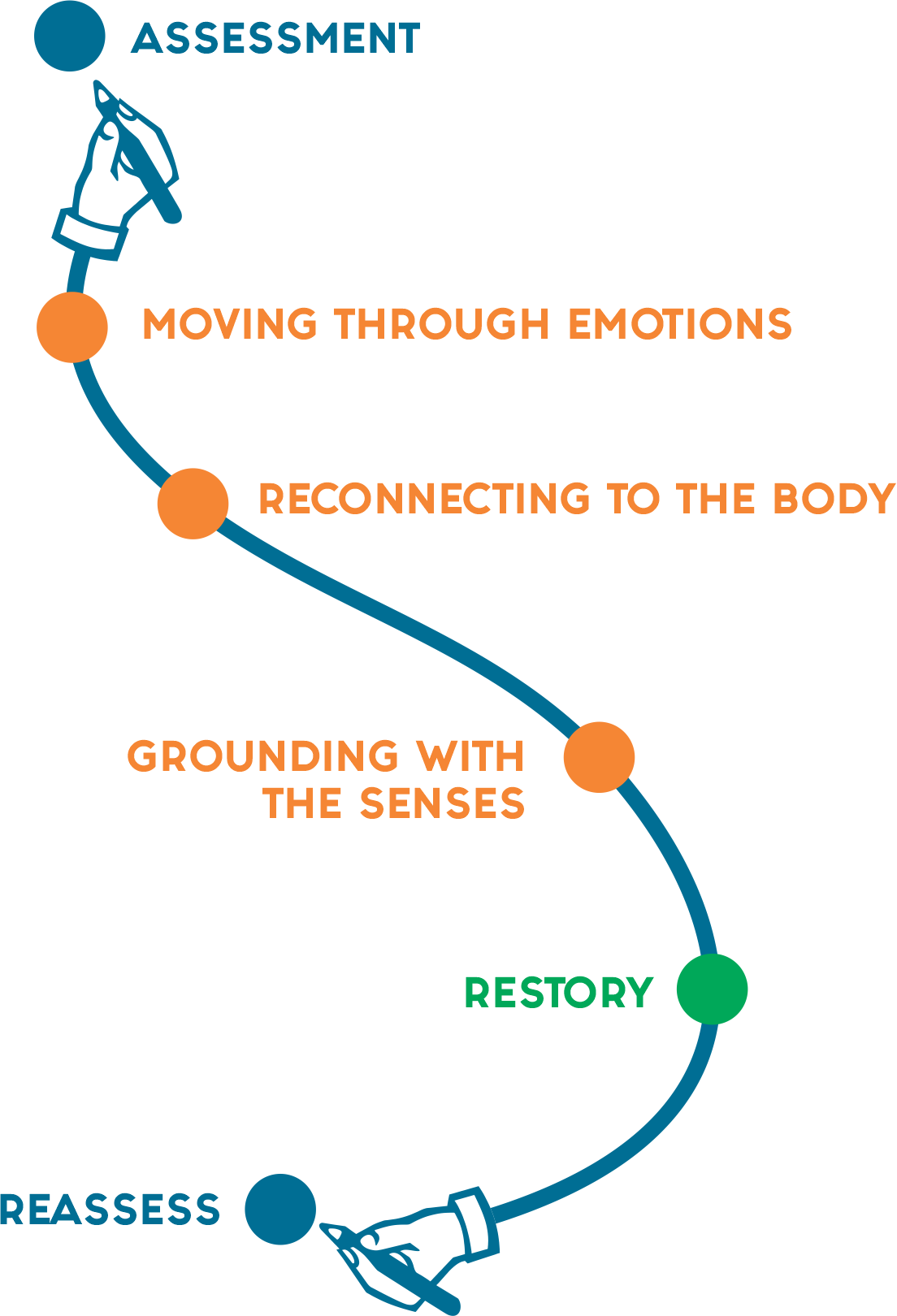 Step 3: Process
Now it is time to begin ReStory where you will engage in the deepest parts of your trauma. This psychodrama group will support you in moving through pieces of your story while highlighting sensorimotor and expressive arts resources throughout the
process. Because it is normal for trauma to layer and become complex, it might make sense for you to repeat this process of ReStory as you find safety and support in this group. After you complete your first ReStory intensive we will go back to Step 1 (Assess) and look at your Resources (Step 2) before jumping into another ReStory Group (Step 3).
If you are a provider (doctor, clinician, intake specialist or community outreach person) this trauma track is designed to support your clients, patients or community members in the complexity of their needs and trauma. This can be used in part, full, or as an IOP option depending on what you are looking for.
Potential Cost
The total cost for a full IOP is $3250. This includes an assessment session ($150), 3 art therapy and sensorimotor resource groups, a 10-week psychodrama trauma intensive ($1250), and a reassess follow up session ($150). At this time we are only cash pay and can provide superbills as needed for insurance reimbursement. We also make room for lower fee rates.
Client Care
We happily coordinate with other clinicians if your client already has an established therapeutic relationship. We will stay in contact with their primary therapist (after receiving a release of information) from the beginning to keep continuity of care and best support the client in their overall treatment plan.
Each group is limited to 4-6 people intentionally to create an intimate, safe, and personal experience and we currently offer a virtual option only for our 6-week Grounding with the Senses group.
We are available for questions, consultation and coordination of care to check out these options together. You can submit the contact form to email us and get this process started. We will response within 24-48 hours.
You can submit the contact form to email us and get this process started. We will response within 24-48 hours.
Error: Contact form not found.