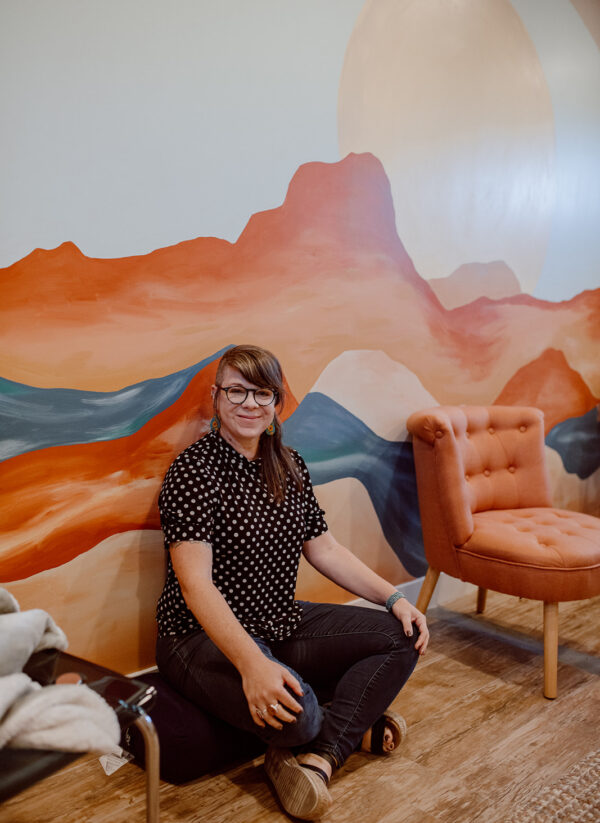 About me…
I'm a native of this wild Arizona desert. I have always been a wandering, creative soul, trying out the paths that offer more adventure and purpose. Creativity has been an inviting lens where I have found more space and room for my questions about the world and my spirituality. I remember the first time I sat on my bed, weary with so much emotion as a 17 year old empath and wrote a song. The relief I felt from that experience still echoes in my heart and story. Over many seasons of life, art has become a dependable confidant where I can just be with any feeling or thought that is bubbling up inside. Watercolor, mandalas, collage and clay are favorites in this season. I believe creativity is necessary and we are all creative (in some way). I also believe art impacts us every day in sweet small ways, like a quality cup of coffee. I am curious by nature and I love questions that dig deep.
Being outside on a trail, on a bike, in a garden is healing and grounding for my soul and for my relationships. I have 2 kitties and 9 chickens, and am married to my adventure partner. We love to find hidden waterfalls and backpack to alpine lakes to find some respite from the intense heat of summer.
I never planned or dreamed of helping people in this way, however my path led me to many creative outlets that consistently allowed me to have a sacred space to say anything and express the pain that burdened me. Art was my survival kit that helped me navigate the intensity of my childhood and teenage years, and I still hold tight to these tools in new ways. It took me a long time to seek help through counseling, basically until I was falling apart. After years of wading through the deep darkness of my own shame and depression, I am still amazed that I am able to have internal peace and accept myself in new and old relationships and spaces.
Digging beneath the surface has been a meaningful part of my own story of recovery from trauma and abuse. I don't believe I am one of the "lucky ones" who gets to feel better. I believe there is so much more for each of us to connect with, discover, and expand into as we enter the darkness of our stories and begin to make sense of it. Because of my healing path, I hold more hope for you, me, and us.
What therapy l
ooks like with me
Therapy with me looks like a space for curiosity, trying out new things as we explore your needs together. It may look more reflective or more active depending on what you come in with. Safety and trust is the backbone of the "work" we will do together. We will spend time getting to know each other and giving you space to explore your story, your needs, and the direction you want to go to find the relief, resolve, or integration of parts of you that are hurting. We will work together as a team and find a path that makes the most sense for you. We may spend alot of time slowing down to find and notice how you connect with your body, creating, or exploring resources to support your current levels of stress. We could be meeting in the art studio, on the couch, or stretching and moving.
I believe YOU (your brain, body, soul) have so much deep wisdom to share and I take that wisdom seriously. If it fits it fits, if it doesn't. . . we let it go and move on.
I am not here to give you answers, but I am here to walk alongside you until you find what you need in this season.
Eye Movement Desensitization and Reprocessing (EMDR)
Sensorimotor Level 2
Expressive Arts Therapy Concentration MAPC
International Association of Trauma Professionals (IATP)
Clinical Supervisor
LGBTQ
Noel works with preteens 12+, teens, young adults, and adults. She specializes in post-traumatic stress, anxiety and depression.
Noel offers Telehealth sessions for those whose primary residence is in Arizona.
Rate: $175/hr
For more information, please contact us or reach out to Noel:
Noel at 480.331.3433 | noel.thewellmesa@gmail.com